Florida Limo Service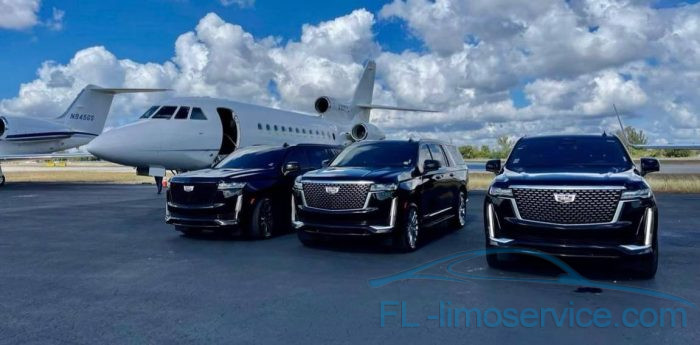 Limo service Florida Limo is available whenever you land. There is no need to hire a company that can provide transportation. You can be assured that our chauffeurs will be there waiting to get you to your destination. Do you love fine art? You will be entertained for hours at many art museums.
Bradenton Limos and Limo Services
Our Bradenton Limo service is available daily. Reliable limo companies are public for you when you need transportation. Many people prefer to ride in a luxurious vehicle than a taxi that smells like cigarettes. Our cars have been cleaned between clients to ensure that every client receives the best possible service. Take a ride with our company.
Boca Grande Limo Services
We proudly announce that we are The Gasparilla Inn's preferred airport transportation provider. This exclusive resort has been home to some of the world's most prominent individuals since 1913. This luxury, upscale resort offers many luxurious accommodations that can accommodate all your concierge needs. We are proud to provide limousine service at this resort by West Florida Limousines of Florida Limo Service. While you travel to your destination, our luxury transportation service offers privacy, comfort, and relaxation. Once your plane lands, our private chauffeurs will meet you at the airport. Our chauffeurs will not only load your luggage in our cars at the airport but also transport you to your cottage, cottage, or suite. After your stay, your chauffeur will meet you at The Gasparilla Inn. The chauffeur will take you to the airport promptly for your flight.
Palmetto Limos and Limo Services
Are you a Palmetto resident, but are you stuck elsewhere? Call West Florida Limousines of Florida Limo Service. In no time, our Palmetto Limo will be at your doorstep. No one likes feeling lost, so trust our chauffeurs to get you safely.
Anna Maria Island Limos and Limo Services
You want to visit the beach, but you don't have transport? Don't worry. Our Anna Maria Island Limo can transport you and your friends to the best beach on the island. We will meet you at the place you want. Once you're done, your chauffeur will take you back to the site you dropped off.
Holmes Beach Limos and Services
Sometimes, people need to escape. Our Holmes Beach Limo Service can take you out for a night. Do you love seafood? Enjoy seafood on the beach! Our chauffeur will then take you around the island on our luxurious limousine. Enjoy a night out with your friends now and again. We will help you get there.
Parrish Limo Services
Do yDo you need a Parrish Limo for your group to go out on a fun night? We have the right Parrish Limo for you! You can ride in style with our transportation services, and you can ride in one of our luxurious vehicles to get you to your destination. You will blast hanging with us in classic sedans or stretch limousines.
Myakka City Limo Services
It can be a good idea to live far from the city. But what about transportation? No shuttles or buses get you to Myakka, and most people depend on private companies. Our Myakka City Limo can pick you up from wherever you are and drive you to your destination. We don't charge per mile, unlike taxi companies.
Longboat Key Limos and Limo Services
Are you looking for transportation from Longboat Key to your destination? Longboat Key Limo is just a short drive away. Our professional chauffeurs are always available to assist you. They will arrive on time and get you to your destination safely and smoothly. You can relax and enjoy a refined feeling in our luxury vehicles. As you drive to your destination, take in the beautiful view.
Siesta Key Limos and Limo Services
Our Siesta Key Limo is located in Florida Limo Service. Whether you are looking for a driver or a ride to the beach, our chauffeurs will take you there. Enjoy the ride in our stretch limousines while being driven to your destination.
Osprey Limo Service
Are you new to the region? Osprey Limo can take you around the city with its chauffeur service. You can enjoy a night out with the family or a dinner at a fine restaurant with your significant other. No matter what, our chauffeurs can take you there.
Nokomis Limo Service
Are you looking for transportation in the Nokomis region? Our Nokomis Limo Service company can help you and your family get around the area. We can provide the transportation services you need, no matter what. With our vehicles, you can drive around in luxury and be relaxed for once.
Venice Limos and Limo Services
Our Venice Limo will provide the transportation you need. Our chauffeurs will take you safely and smoothly wherever you go. Please do not waste your money on a poor taxi; our luxury vehicles will allow you to relax comfortably.
Englewood Limo Service
Are you looking for transportation to Engelwood? Our Engelwood Limo will pick you up in luxury. You can ride in one of our luxury sedans and complete all your errands. You can count on West Florida Limousines of Florida Limo Service for help, no matter how simple or complex the trip is.
North Port Limo Service
No matter where you are located, our North Port Limo can take you there. We offer services to many areas in the area, and our chauffeurs can transport you anywhere you need, including groceries and transportation.