If you are looking to hire a limo in South Florida, there are a few different types of limo services you can choose from. These limos include Tank limos, Stretch limos, Executive SUVs, Hummer limos, and even Limo bus rentals.
Stretch limos
Stretch limos make for excellent transportation, especially for special occasions. They allow you to impress your guests with style, and you can have the time of your life. You may even want to consider a limo rental for a birthday, anniversary, or any other milestone celebration.
Limousines are also a convenient way to get around town. Whether you need to go to the beach, a wedding, or any other location, you can have a limousine deliver you and your group. Depending on your budget and party size, you can choose from stretch limos, party bus limos, or executive SUVs.
You're in luck if you're looking for a limo in Miami. The city is home to some of the best limousine services in the country, and these vehicles offer comfortable seating and excellent amenities.
Hummer limos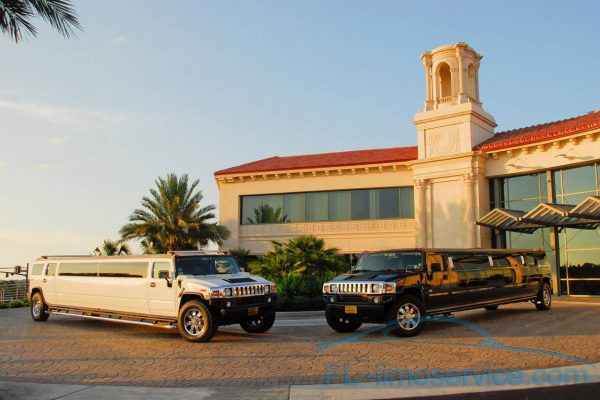 A Hummer limo is your best bet if you're looking to impress a special someone. Whether you're celebrating a wedding, a birthday, a bachelorette party, or a prom, a Hummer can make a huge difference.
A Hummer limo can seat up to 20 passengers. This means that it's perfect for a group of friends, family, or co-workers. For larger groups, a party bus is also a good choice.
In South Florida, there are many options for Hummer limos. You can rent a stretch Hummer H3 or a Hummer H1 limo, both available in black, white, or pink.
The Hummer H3 is a luxurious limousine with a disco ceiling and fiber optic lights. It's also equipped with multiple televisions and strobe lights.
On the other hand, the H1 is less expensive. It has a premium sound system, iPod hookups, and two subwoofers, making the limousine ideal for concerts, sporting events, and other events.
Executive SUVs
If you plan a trip to South Florida, you should consider hiring one of the many limo services available. A limo will make your trip a little more unique, whether taking a romantic getaway or visiting friends and family.
The most impressive of all is the stretch limo. This is the vehicle of choice for several occasions, from weddings to bachelor parties. Often, the car is made to look like a stretched SUV, and the best ones have a trunk that can hold a small family or even a large group.
For more budget-friendly options, there are sedans and minivans. These vehicles usually seat three to six passengers and offer a surprisingly sophisticated level of comfort. Some of the more impressive models feature leather seating and a beverage station.
Tank limos
Having a tank limo at your disposal is like having a Ferrari swooping in and out of your driveway for a spin. If you're looking for a way to impress your friends and family, the tank limo is a slick move. Powered by a Rolls Royce engine, you'll be able to whiz around at 35 miles per hour, making this a suitable option for any event, wedding, or airport transfer. It may not be cheap, but it's certainly an impressive feat of engineering.
Getting a tank limo to drive you around South Florida is no small feat, and you'll be in good hands with the folks at South Florida Transportation. Their fleet features a variety of limos, including stretch and hummer limos. They also have the best local deals, from cheap limo hire to discounted airport shuttles.
Limo bus rentals
There are several different types of limousine bus rentals in South Florida. If you are unsure which one is best for your party, you should consider your needs and the distance you plan to travel. The cost will also depend on the number of passengers you are carrying.
Charter buses are an excellent option for larger groups; they can take many people, including disabled members. These vehicles can accommodate everyone in the group, making them ideal for traveling around Miami and South Florida.
Mini buses are smaller but are also a popular alternative to multiple cars. These vehicles are usually 10 to 15 feet long, with seating for about ten to eight passengers. However, limo buses don't have the same style and amenities.